Want to have fun, show off how smart you are, and earn? Then try one of the hottest trivia apps today: Swag IQ, which is available for download on cell phones by clicking here.
I've reviewed over 15 trivia apps and Swag IQ is the best live trivia game out right now.
I've always enjoyed trivia games, but this app is the closest thing to being a guest on a real trivia show. You play against real people and compete for an actual cash prize.
But since I've been burned by bad apps before – haven't we all? – I had to test it out for myself and see if it lived up to its hype and if you should download it.
Here is my honest Swag IQ review.
Want free money?

Aspiration: Want to get spotted a $100 for free? Simply sign up for Aspiration, and the free banking app will give you cash for free, you just relax while it gives you $100 just for opening a new debit card. There's no catch, just use your card to make at least $1,000 in cumulative transactions within 60 days of opening an account. This bank account is legit and only takes two minutes to sign up for an account.

Short Description about Swag IQ

Swag IQ is the live trivia game show where you test your knowledge daily to win huge cash prizes.
It's free.
Download the app to play and win!
What is SwagIQ?
Swag IQ is a multiplayer, live trivia game show. Answer 10 multiple choice trivia questions correctly to win cash prizes. Answer individual questions correctly and win reward points redeemable for cash and gift cards!
What is the most popular drink in the world that does not contain alcohol? What is the official national anthem of the United States of America? What is the Capital of Australia?
If you answered coffee, star-spangled banner, and Canberra, then you may want to look into the NEW Trivia App that pays you huge cash prizes for your smarts.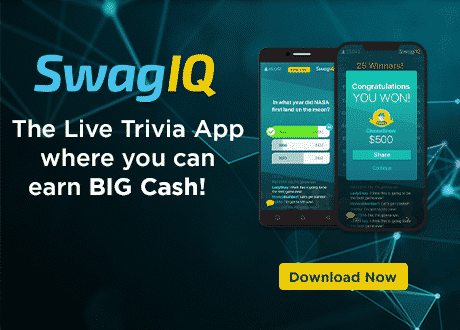 Today's prize is worth over $1,000!
I'll be playing, will you?
Click here to download the free trivia app and start winning cash daily!
What do I like about trivia apps?
You'll get money just for testing your knowledge and they pay you straight cash without doing any work.
How Does Swag IQ Work?
Download the app (it's available for both iOS and Android) and participate in live trivia games. You're given just a few seconds to answer the question that flashes on the screen. If you're right, you advance to the next question. If you're wrong, you're kicked out of that particular game (better luck next time!)
Grand prizes can reach up to $1,000 but it is split among all the winners. You do get points for participating, so it's not like your time is wasted. Besides, it's a fun game!
Click here to download the free trivia app and start winning cash daily!
Yes. Simply register with Swag IQ to play the game. You'll have a blast playing.
Swag IQ Screenshots
Will I Get Paid?
There's always that fear that you're being scammed, but you can rest easy with Swag IQ. This is app is from a legit company, Swagbucks. It's done similar apps before, and paid members to take surveys or play games. Aside from cash prizes, they give out bonus points (or what they call SB's) which can be redeemed for gift cards. So for me, that's one of the biggest factors for giving a positive Swag IQ review: whatever limitations or frustrations you may have with the trivia game itself, you're sure that you will actually receive your prize. That's not a claim other unknown trivia apps can make.
---
Games that pay you to play. Yes, we're serious.
These 3 apps will pay you to play games on your mobile device:
Mistplay (Android) - If you have an android device, you can download this app and start getting cash rewards for playing new games.
Solitaire Cube (iOS) - Earning money by playing games on your phone sounds like a dream. But this app really pays you for playing solitaire with cash rewards.
Lucktastic (Android) - This free app offers the same daily scratch-off cards that you find at your local convenience store — but here you can play for free and win real money.
---
Click here to download the free trivia app and start winning cash daily!
How do I join Swag IQ?
You just have to sign up and register to be a Swagbucks member, which will allow you to download the app and have a personal Swagbucks profile or account.
Unfortunately, not everyone can join Swagbucks. It limits membership to people who live in the United States, Canada, United Kingdom, Ireland, France, Germany, and Australia. In Asia, only people from India can currently access the game.
You need to be at least 13 years old to qualify for membership. The questions aren't racy or risqué so you don't have to worry if your teen is playing the game.
Click here to download the free trivia app and start winning cash daily!
What is the gameplay experience?
Now for the meat of this Swag IQ review: what is it like to play the game? First, I like that it prevents someone from cheating (i.e, Googling for an answer) since you only have 10 seconds for each question. If you win, you do it fair and square. It does get frustrating if you have slow internet because any kind of delay will cost you a round. But that's outside of the app makers' control, and just in case you want to jump back in, you can use SB points to buy a second chance of rejoining the game. If you answer 10 questions you get the grand prize, and you split the earnings with other players who also successfully reached that final level.
As for the type of trivia questions you'll get, I like that the questions are really interesting and come from different categories. Some are about Hollywood, others are about Science or Literature. However, the game does favor Western pop culture. (By the way, the app also invites members to suggest trivia questions and submit them to the moderators for review.)
Click here to download the free Swag IQ Trivia app and start winning cash daily!
Pros & Cons of SwagIQ
Benefits
On Swag IQ, there aren't any fees and it's free to use just download and play.
It can be used by Trivia Novices or Experts.
You can make your chances of winning increased just by playing daily.
You can turn your points into cash easily via PayPal.
Downsides
Though Swag IQ belongs to Swagbucks, you should not expect to get rich off this app.
Competitors like HQ Trivia offer more prize money generally.

Why does Swag IQ require a phone number to sign-up?
Swag IQ Summary
So to conclude my Swag IQ review, all in all, it's a fun way to spend a challenge your brain and enjoy the thrill of competition.
I've reviewed over 15 trivia apps and Swag IQ is the best live trivia game out right now.
Swag IQ can be worth it for you if you win the grand prize a few times!
Don't expect to get rich by using this app, but it's very entertaining and can earn you a few dollars so it's worth the one minute download.
The sign up to Swag IQ is really simple and the download from Google Play or the Apple store take minutes.
After all, Swag IQ is from a company we love, Swagbucks, so they wouldn't steer you wrong. Download it today. Click here to download the free Swag IQ Trivia app and start winning cash daily!

Want free money?
Robinhood is a free investing app for your phone. I really mean free all around – free to join and they don't charge any fees to buy or sell the stock. You can get a share of stock like Apple, Ford, or Sprint for free when you join through this link. The value of the free share may be anywhere between $2.50 and $200 and fluctuates based on market movements. You've got nothing to lose.