The very first metallic credit card appeared in 1999 when American Express released the black titanium Centurion card. It was per-invite only where regular enormous spending was the primary requirement. You must spend at least $350,000 on your card annually. On top of that, you need to pay a $5,000 annual fee and a $10,000 initiation fee.
The company makes up for the high membership standard with lavish benefits like personalized concierge service, generous airfare rebates, exclusive retail benefits, and elevation to elite status in prime hospitality brands.
Fortunately, you don't need to have an extra deep pocket to own a metal credit card now. Major credit card companies like Capital One, Citi, and Chase are now offering metal cards as one of their options. If you're thinking about getting one, go over this review first and see which fits your spending patterns and lifestyle.
5 Metal Credit Cards With No Annual Fees
The most straightforward answer to why it's better to get a credit card with no annual fees is to save money. This benefit is true of private individuals and businesses issuing corporate cards to their employees. 
Paying the card's annual fee is worth it only if you get higher rewards. However, in most cases, cards with no annual fees offer more significant long-term value than those cards that charge users.
They'll make it seamless for you to come out ahead, despite your spending. You can also keep your card for an extended period without upkeep cost. With this, you can increase your account's average age, positively affecting your credit score.
Here are the top five metal credit cards with no annual fees to help you decide better.
1. U.S. Bank Altitude Go Visa Signature Card
This credit card received five out of five score in most credit card reviews for charging no annual fees, made from metal, and rewards for other purchases. Specifically, here are the specific benefits of the card:
4X points or 4% cash back for every dollar spent on dining
2X points for each dollar spent on gas stations, grocery stores, and participating streaming services
$15 annual streaming credit (applies only after you pay for the service for 11 straight months)
0% interest on purchases from the 1st to 12th month of usage
No expiry of points
This newcomer in the credit card industry offers a nice bump to an average dining credit card. You will also enjoy some perks rarely experienced with credit cards with no annual fees. These include a yearly credit of $15 on your streaming service, 2X points on gas and groceries, and 4X points when you dine in restaurants.
2. Amazon Prime Rewards Visa Signature Card
This is another metal credit card with no annual fee that earned a five out of five in most credit card reviews. Here are several reasons you should consider before applying for this card:
5% cash back at Whole Foods Market and Amazon.com
2% cash back at drugstores, restaurants, and gas stations
1% on all other purchases
Receive $100 Amazon gift card upon approval
Select shopping and travel protections
Note that this card requires an Amazon Prime membership. If you still don't have a Prime membership, you can go for Amazon Rewards Visa Signature Card instead. The latter is also free of annual fees, but sadly, they have less exciting perks.
3. Amazon Business Prime American Express Card
Consider getting an Amazon Business Prime American Express credit card if you're looking for a credit card that would help you earn cash back from the biggest retail stores. Here are specific perks of this metal credit card:
5% cash back at Whole Foods Market, AWS, Amazon Business, and Amazon
2% cash back at gas stations, restaurants, and select telephone services
The choice to take the 90-day term to pay for your purchases at Amazon instead of the cash backs
Receive $125 Amazon gift card upon approval
Discounts on some merchants via Amex Offers
Travel and shopping protection
0 foreign transaction fees
Like the Amazon Prime's Rewards Visa Signature Card, you need to be an Amazon prime member. If you're not a member, you can go for their plastic express card.
4. Apple Card
This is for credit card users who prefer digital cards with no account number or other printed details on their laser-etched titanium surface. Aside from its minimalist aesthetics, here are other specific perks of this card:
3% cash back on iTunes, Apple, and the App Store
3% cash back on Apple Pay when using Uber Eats and Uber
2% cash back on Apple Pay purchases
You can manage your card through your iPhone wallet app. This is ideal to own now when it's unsafe to touch anything.
5. Verizon Visa Card
If you're a Verizon customer, this card is for you. Despite being restrictive, this card is pretty rewarding. You'll enjoy generous rewards in cash backs and Verizon dollars. Here are some of the advantages:
No expiration date
No ceiling on earnings
4% cash back on gas and grocery store purchases
3% cash back on dine-in and take-out purchases
2% cash back on all Verizon purchases
1% cash back on other purchases using Verizon Visa Card
Use of Verizon dollars on Verizon stores
The Verizon dollars can only be used in the Verizon store, so you can't use them in your ordinary purchasing course. If you want the less restrictive card, you can opt for their rewards credit card for general use.
Which Metal Card Should You Pick?
The right metal credit card would highly depend on the user's spending habits and personal preferences. For example, if you're an ardent restaurant diner, or if you frequently gas up, buy groceries, or purchase streaming credits, get the U.S. Bank Altitude Go Visa Signature Card. However, if you are a digital spender, the Apple Card is your best bet. Weigh the perks so that you can decide accordingly.
FAQs
Are metal cards free?
The rules for each bank vary. However, the first card is complimentary in most banks, while additional cards come with a hefty or reasonable price tag. For instance, AMEX metal cards cost users $5,000 per year.
What is the black metal credit card?
This refers to the first metallic credit card released by American Express in 1999 called the black titanium Centurion card. This is a per-invite card, targeting the world's biggest spenders. You must spend at least $350,000 on your card annually. On top of that, you need to pay a $5,000 annual fee and a $10,000 initiation fee.
What are the heaviest metal credit cards?
A handful of metal credit cards weigh significantly higher than their other counterparts. The patented black-PVD-coated and 24K-gold-plated gold metal credit cards from Mastercard are on the top of the list. Both cards weigh about 22 grams.
What credit cards do millionaires use?
These are the top five credit cards of the world's super-rich people –– AMEX Centurion Card, Coutts World Silk Card, Stratus Rewards Visa Card, Dubai First Royal MasterCard, and JP Morgan Chase Reserve Card.
Best Metal Credit Cards Summary
Owning a credit card is a necessity in this day and age. It's a massive step in transitioning to an entirely cashless economy. It can also save you in emergencies where you're short of cash. However, not every credit card offered by the bank is right for you. You need to be selective about the credit card to apply for and use. Aside from your approved credit limit, you should also consider other factors like annual fees, rewards, rebates, and other significant perks.
Other credit card users don't care about the fine print that arrived with their credit cards. Most of the time, they belatedly find out that failure to timely raise objections and clarifications is tantamount to implied consent. As such, they find themselves paying hefty amounts in interest and annual fees.
Don't let this happen to you. If you want a metal credit card with no annual fees but with exciting perks, consider the cards that made it to our list. Go over each item before finally submitting an application. This would set proper expectations and avoid unpleasant surprises along the way.
Best for luxury benefits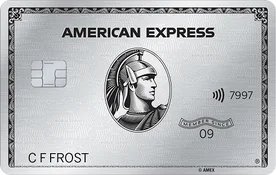 The Platinum Card® from American Express
INTRO OFFER: Earn 80,000 points (worth $1,600)
Earn 5X Membership Rewards® Points for flights booked directly with airlines or with American Express Travel up to $500,000 on these purchases per calendar year.
Earn 5X Membership Rewards® Points on prepaid hotels booked with American Express Travel.
Apply Now