IRS Refund Schedule: Filed your return and wondering when you should expect your tax refund? This answer depends on how you filed your tax return (e-file or via mail). We'll explain more in this article.
Every day, we work hard enough to earn money that could help us live a peaceful and stress-free life. It can be disappointing and even frustrating to see all that hard work being sucked away by the government through additional taxes. But if you are one of the lucky ones, then you are owed a tax refund for all your work from 2018.
Not long after filing your federal income tax return, you're often left playing the waiting game.
Some may be left thinking, what's wrong with the IRS and where's my refund?
If you are getting a tax refund, then we can help you understand just how soon you should expect it.
What is a Tax Refund?
Want free money?
Aspiration: Want to get spotted a $100 for free? Simply sign up for Aspiration, and the free banking app will give you cash for free, you just relax while it gives you $100 just for opening a new debit card. There's no catch, just use your card to make at least $1,000 in cumulative transactions within 60 days of opening an account. This bank account is legit and only takes two minutes to sign up for an account.
First, we gotta cover the basics. A tax refund or tax rebate is a refund to an individual or household on taxes when the tax liability is less than the taxes paid.
Taxpayers can often get a tax refund on their income tax if the tax they owe is less than the sum of the total amount of the withholding taxes and estimated taxes paid, plus the refundable tax credits claimed.
If it is possible for you to get every dollar back, then why not go for it? Let's face it, we deserve it.
IRS Tax Refund Schedule 2019
Here are the basics:
| | |
| --- | --- |
| Taxes Due: | Monday, April 15, 2019 |
| When You Will Get Your Federal Refund (E-File): | 21 Days After E-File, if eligible |
| When You Will Get Your Federal Refund (Mail): | Up to 12 weeks, if eligible |
2019 Tax Deadline
The tax deadline will be on a Monday, 15th April 2019.
Tax Refund Dates
Although the tax refund dates have not been precisely stated, the IRS is expected to give a tax refund to most of the filers within 21 days. Here are estimations for expected returns based on filing dates and information from the IRS: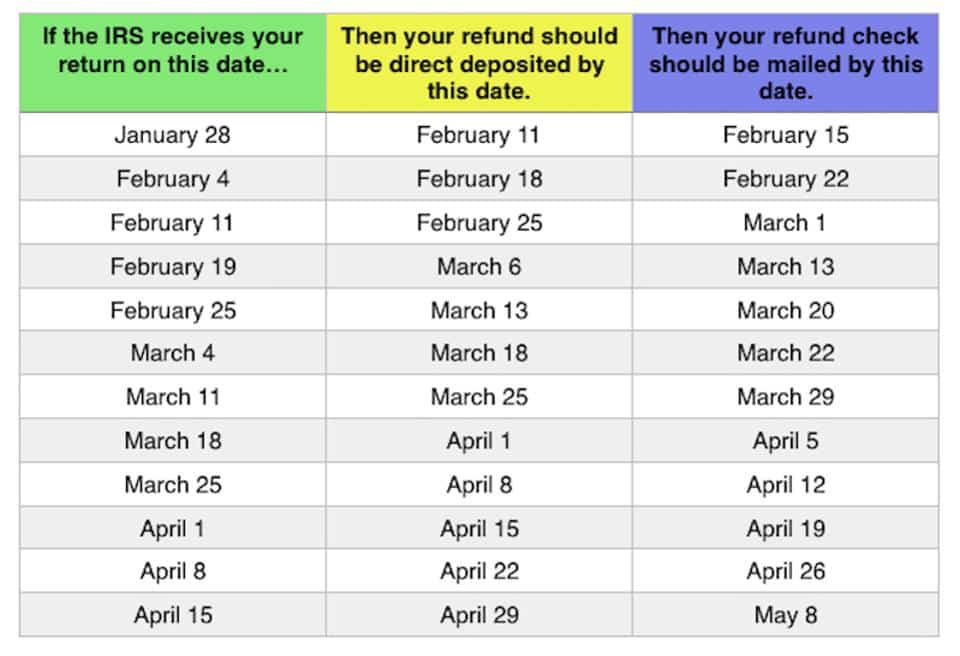 The IRS also offers guidance to people that they can submit their taxes before the beginning of the tax season. It is also to be noted that you cannot send your e-file until unless the IRS opens the software program system.
Will the Tax Refunds be Delayed?
According to the new law that Congress passed, the IRS is supposed to hold onto the tax returns that consist of the Earned Income Tax Credit (EITC) as well as the Additional Child Tax Credit (ACTC).
The IRS will withhold these tax refunds until 15th of February, 2019.
Remember: If your federal tax return has these include these credits, your refund will not be refunded until 02/15/2019 even if you file the return early.
It is not necessary for the refunds to be made on that exact date, they might be slightly delayed. As compared to last tax season, the IRS stated that these returns would be built on February 27th. So it is safe to assume the refunds to be delayed.
You might be wondering that why do these delays happen and what is precisely the point of these laws?
Well, the extended time will give IRS the opportunity to review each return specifically, and to examine them to minimize the chance of fraud carefully.
By looking at the experience of 2017 and 2018, there was much credit blames on large organizations. And by this due diligence process, it is safe to say that the government's funds are kept safe and ensured.
Where is my Refund?
The IRS has a where is my refund tool which allows you to track your refund after you file a tax.
---
Games that pay you to play. Yes, we're serious.
These 3 apps will pay you to play games on your mobile device:
Mistplay (Android) - If you have an android device, you can download this app and start getting cash rewards for playing new games.
Solitaire Cube (iOS) - Earning money by playing games on your phone sounds like a dream. But this app really pays you for playing solitaire with cash rewards.
Lucktastic (Android) - This free app offers the same daily scratch-off cards that you find at your local convenience store — but here you can play for free and win real money.
---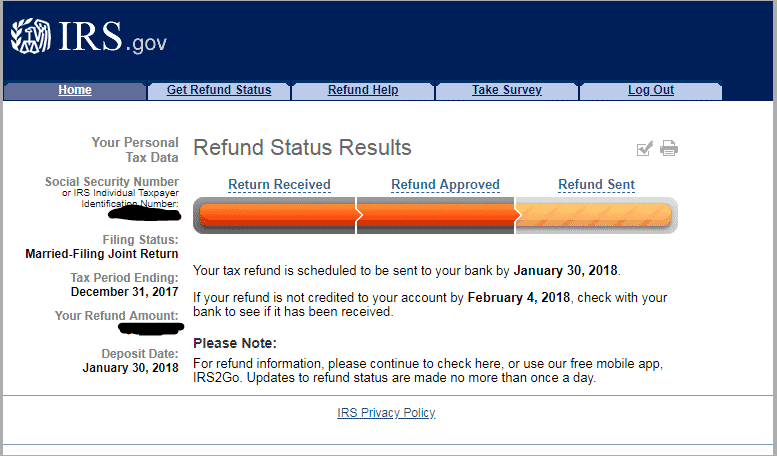 You can determine what level your refund is on and when can you expect to receive it.
This way, the tax return, and processes will not be kept from you, and you will know what to expect at what time.
Tips To Speed Up Your IRS Refund Schedule
The fastest way to get your tax return is by choosing the e-file option, which will automatically transfer your refund to your financial account (direct deposit) and relieve you of the effort as well as added stress when waiting for your tax refund.
This transfer or deposit is known as the direct deposit. These direct deposits are conventional and are usually used by most of the taxpayers to get their refunds in a fast and safe way.
All e-files are issued with a process of receiving funds via direct deposit, and these refunds are made within a time schedule of 21 days after the filing.
Does this apply to a State Tax Refund?
Still wondering where is my state refund? Well, all of the tax refunds as mentioned above were about federal tax refunds and did not apply to state tax refunds.
If you file a state tax refund electronically, then it will probably take more than a month to process it.
And paper submitted returns take longer to arrive, that is up to 12 weeks which is approximately three months.
Your state's tax refund can be determined by contacting the state tax agency or by checking your state's Department of Revenue website.
An overview of the Tax Schedule
The bottom line is that the tax due date for your 2018 tax return is April 15th, 2019, which is on a Monday. You can see how long you should expect to get your tax refund below:
| | |
| --- | --- |
| Taxes Due: | Monday, April 15, 2019 |
| When You Will Get Your Federal Refund (E-File): | 21 Days After E-File if eligible |
| When You Will Get Your Federal Refund (Mail): | Up to 12 weeks if eligible |
IRS Refund FAQs
IRS refund phone number?
The toll-free phone number to check your Federal refund status is 1-800-829-1954. Automatic service is available every day of the week, 24 hours per day, and you can check on your refund in either English or Spanish. Or you can call 1-800-829-4477 to reach the IRS TeleTax System and check the status of your tax refund.
Where is my federal tax refund?
By filling out an IRS e-file, you can get your refund in about a timeframe of 8 days, and nine out of ten taxpayers get their IRS issued refunds in as little as 21 days.
IRS accepted the return but not approved?
Did you claim the Earned Income Tax Credit or the Additional Child Tax Credit on your federal return? If your federal tax return has these include these credits, your refund will not be refunded until 02/15/2019 even if you file the return early. If not, you can call 1-800-829-1954 to speak with the IRS.
Why is my refund so late?
The IRS has not confirmed an exact date for when they will start accepting 2019 returns, but you can anticipate the tax returning to begin from January 29th, 2019, predicted on the base of last year's processes.
When to Expect my Tax Refund in 2019?
Everyone primarily has one concern when it comes to tax season, which is when will they get their money back. For starters, you should opt for e-filing, which is must faster, and it costs nothing extra. Your tax refund will be transferred automatically into your bank account through direct deposit.
This question of tax refund is often asked by people who are new to the world of tax filing. It was difficult to predict a tax return before the introduction of e-filing. The IRS announces a tax returning process on January 28th, 2019.
But it should be noted that due to the government shutdown, many tax programs are yet to be completed to start the new filing. An expected delay is soon to take over the board as the IRS begins to process returns.
The IRS these days is going through a shortage of staff. Even with this shortage and the ongoing budget crisis in Washington DC, the processing of tax payment and returns will not cease; however they will be delayed until the government re-starts its cycle.
In conclusion, the tax refund schedule time can be summed up below:
| | |
| --- | --- |
| Taxes Due: | Monday, April 15, 2019 |
| When You Will Get Your Federal Refund (E-File): | 21 Days After E-File, if eligible |
| When You Will Get Your Federal Refund (Mail): | Up to 12 weeks, if eligible |
Want free money?
Robinhood is a free investing app for your phone. I really mean free all around – free to join and they don't charge any fees to buy or sell the stock. You can get a share of stock like Apple, Ford, or Sprint for free when you join through this link. The value of the free share may be anywhere between $2.50 and $200 and fluctuates based on market movements. You've got nothing to lose.