This is an Encoreloan review, Encoreloan a personal loan service that makes borrowing fast and simple. You can get loans from $100 to $15,000 as quick as tomorrow even if you have bad credit.
Life happens.
Sometimes you need access to money to pay a bill, debt consolidation, repairs or maintenance, or personal needs. You can get help by getting a quick personal loan to help you financially.
A Personal Loan is a loan usually meant for personal, family or household purposes. These types of loans are unsecured, meaning that it is not necessary to have any form of collateral such as property to be approved. All that is required is proof of your identity and a regular source of income. Personal Loans are typically repaid in fixed monthly payments.
There are no specific limitations on how a personal loan can be used. Once you've been approved, you are free to use the funds as you desire.
Below are some common uses people use Encoreloan:
Debt Consolidation
If you are carrying a large amount of debt from previous loans, a personal loan can be used to consolidate your payments into one easy monthly payment with lower interest rate. Doing so can save you lot of money.
Repairs and Renovations
Been putting off a major repair to your car or home? Or are you in need of renovating your kitchen to increase its value? A personal loan can be used to get the job done under affordable terms you are able to handle.
Major & Unexpected Expenses
Life's unpredictability can have a serious impact on your finances. Unexpected medical bills, major car repairs or an emergency can all be reasons to utilize a personal loan.
Personal Needs
The beauty of a personal loan is that it is completely flexible. There are no restrictions to what you can use it for.
Don't worry; we've all been there.
And thanks to technology, it's possible to get a personal loan in as quick as tomorrow with Encoreloan.
This is a review of Encoreloan.com that offers personal loans online and the great thing is that all credit types are accepted.
Let's get started.
Encoreloan Review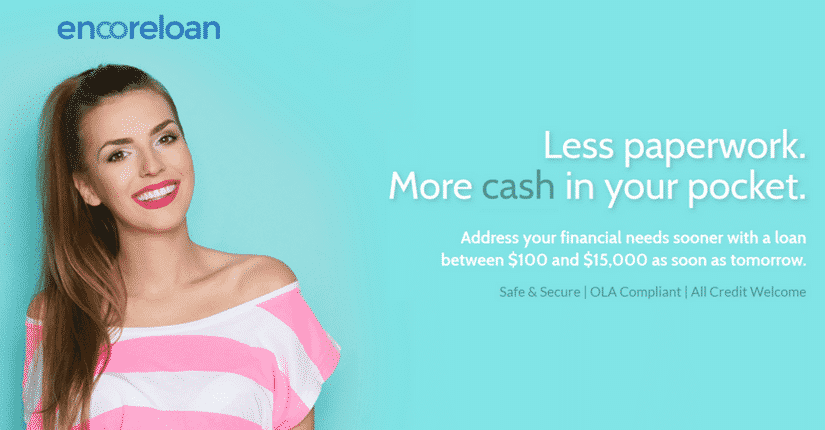 What Is Encoreloan?

At Encoreloan, they understand that financial events don't always follow a regular pay schedule and sometimes people need some help. Their mission is to provide customers with fast access to a personal loan through a simple, secure and transparent process.
A personal loan is a type of loan that is intended for personal or family use. Personal loans are typically unsecured, meaning that it is not necessary to have any form of collateral such as property to be approved. All you need to qualify is proof of your identity and a regular source of income. Some common uses for personal loans are completing a large purchase, renovation or repair, consolidating debt, or to simply cover unexpected expenses, both large and small.
Will I get approved for a cash loan from Encoreloan?
All Credit Types Accepted. Encoreloan's network of lenders offers a full range of loans for people with excellent credit as well as bad credit. If you are 18 years or older and have a regular source of income, you can be approved for a loan. Simply apply to see your options.
Why Encoreloan is Different
Encoreloan believes that everyone deserves access to credit. When you submit your loan request with Encoreloan, your application is sent to and considered by over one hundred lenders. Their lenders offer multiple loan options to suit your needs, industry-standard security, around the clock access and the ability to apply from home or on the go. The power of borrowing is effectively put in your hands!
How does Encoreloan work?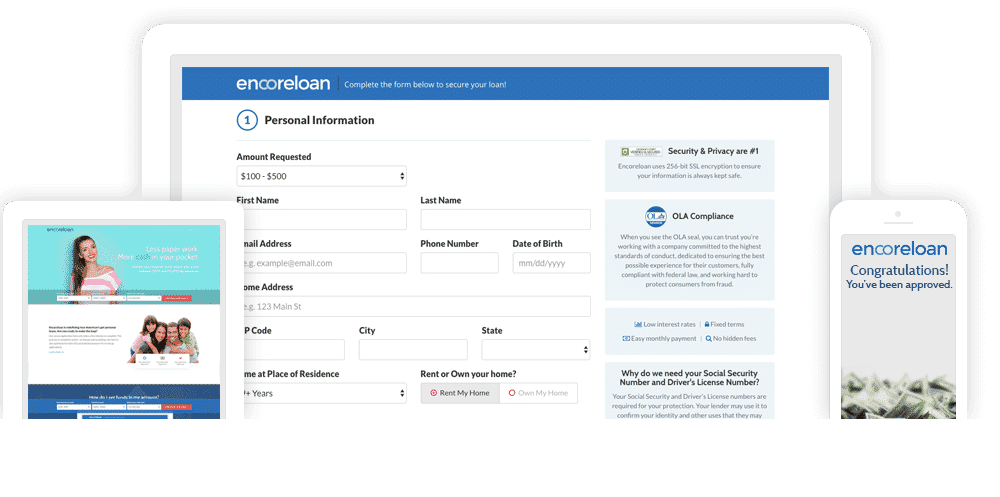 1. Apply Online in 5 Minutes
Encoreloan's secure application form only takes a few minutes to complete. The process is completely online – no lineups and no waiting. Their form is also optimized for both iOS and Android browsers for on the go applications.
2. Sign for your Loan & Collect Your Funds
Once they have connected you with a lender, you can review and e-sign your loan agreement on the spot. Once the process is complete money is usually deposited into your bank account as soon as the next business day.
3. Repay Your Loan
Encoreloan manages a network of personal loan lenders that offer the flexibility to repay with multiple installments, in some cases up to 60 months. They also work with short term lenders who offer smaller loans that are typically paid back according to your next pay date. In cases where they are unable to connect you with an installment lender they do their best to secure a short-term loan to address your immediate cash needs.
What are Pros & Cons about Encoreloan?
---
Pros…
Safe and easy transactions
Uses 256-bit data encryption technology so your personal data is safe
The requirements are lax to approve your personal loan
Fastest fund transfer, as quick as next day
$100 – $15,000 can be applied at a time
Eligibility criteria are very flexible
Encoreloan offers 24/7 services
Cons…
The service is only available online
Encoreloan Contact Information
There is no phone number listed on the Encoreloan website, as this service is only available online. Please be wary of this if reaching a customer service representative is important to you or if you are okay with performing all the tasks solely online.
How much of a loan does Encoreloan offer?
At Encoreloan, you can apply for a personal loan between $100 and $15,000. The amount you are actually approved for is dependent on a number of factors, including your income, credit history, state of residence and the lender that you are connected with. Not everyone is eligible for $15,000. In the event that you are not approved for a loan amount you requested, you may still be still eligible to be approved for a lower amount. Simply follow the instructions provided on their application to apply for a lower amount in real-time. Remember, you can do apply for a loan 24/7.
Does Encoreloan work?
Yes, it does, they work with over hundreds of lenders to find you the best personal loan even if you have bad credit. The best thing is that Encoreloan accepts loan applications 24 hours a day, 7 days a week. Their network of lenders is open at all times, unlike conventional banks that are only open during business hours. Once you are approved on our site, you will receive instructions on how to finalize your loan with your lender.
Is Encoreloan safe?
Encoreloan utilizes industry standard security protocol and enhanced 256-bit data encryption technology to ensure that your information is secure while using their web site.
Address your financial situation in 5 minutes or less
Financial needs can change over time or suddenly. Encoreloan can empower you to do more regardless of your circumstances. Get started now!


Get Out of $30,000 or More of Credit Card Debt