You'd be silly not to get cash-back for items you would have bought anyway. You can do this by shopping online with Rakuten.
Every time I shop online, I start at Rakuten and then I get cash back deposited into my PayPal account.
Hello, free income app!
Rakuten is my favorite way to make money when I shop online and right now they are offering a $10 sign up bonus through this link. You can save money with over 2,000 stores. When you use Rakuten to shop, you get cash back.
Click here to sign up for Rakuten and get $10 to start.
What is Rakuten?

Rakuten (Formerly Ebates) offers cashback if you purchase from their network of shopping sites. You already know you can shop for pretty much everything imaginable online. Rakuten isn't exactly a shopping portal on its own.
Rather, they give you cash back if you shop through their affiliate links to various websites, including the big-name retailers like Amazon, Best Buy, Kohl's, Nordstrom, Lowe's, and many more.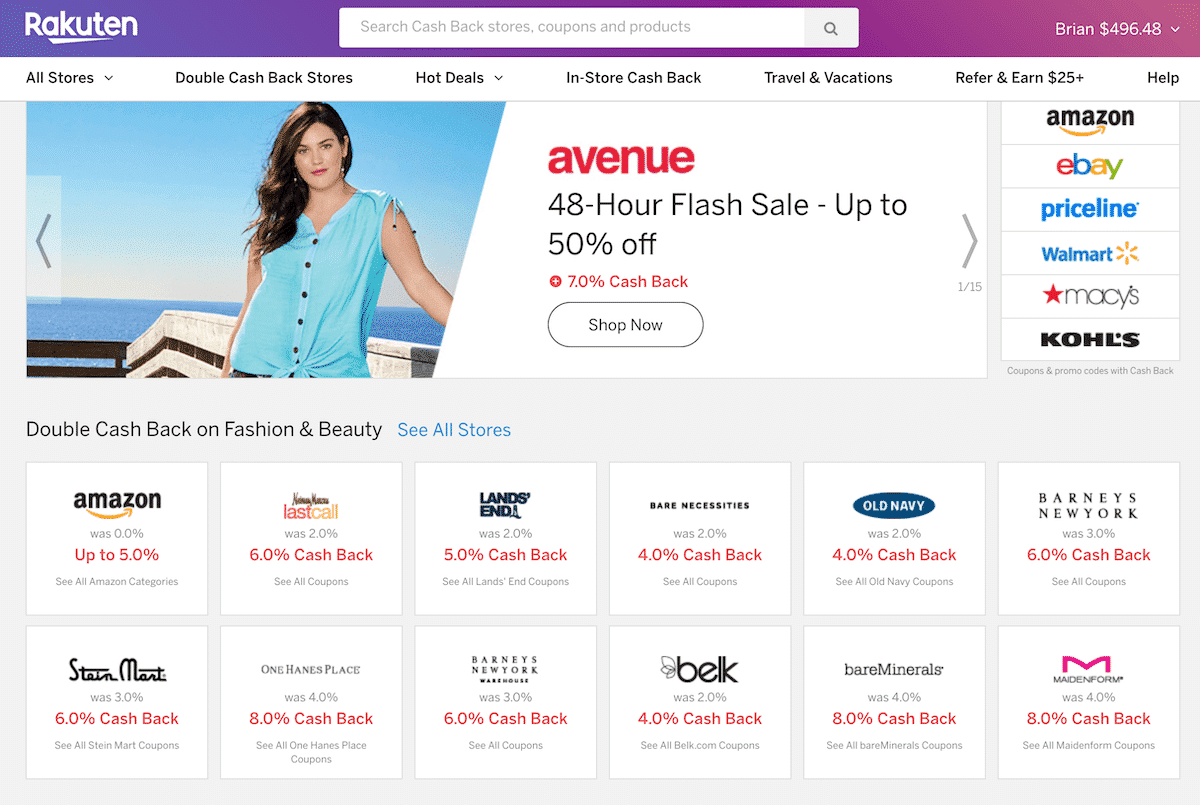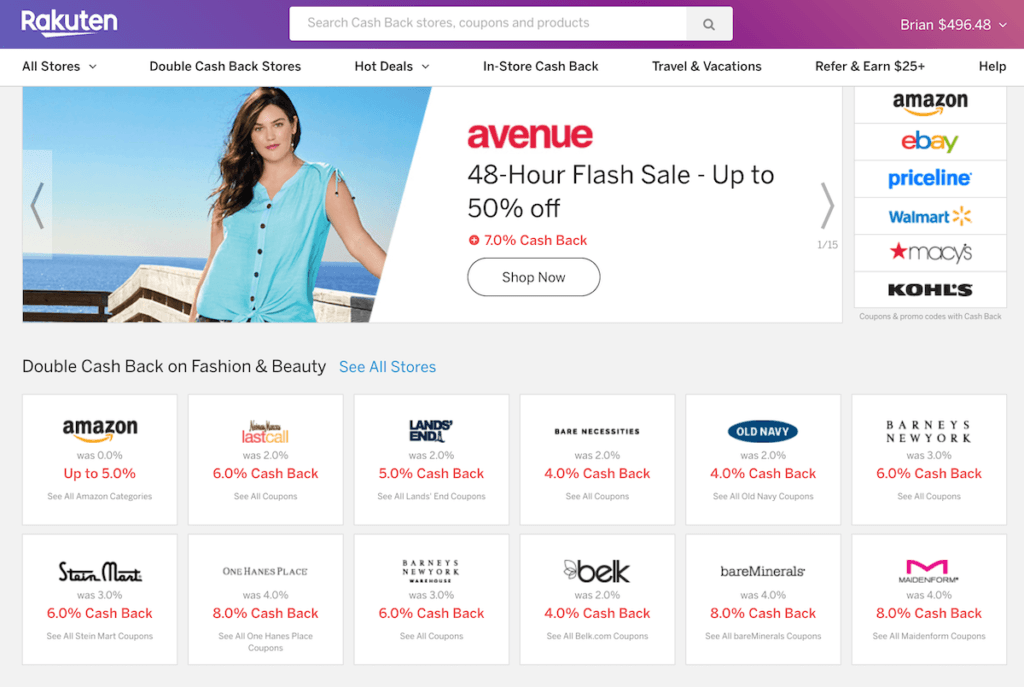 As you probably already know – shopping online is practical and is very desirable for people our age. I use Rakuten for all my online shopping. I only shop a moderate amount, usually, I get stuff on Amazon or different department stores and I rather use Rakuten in order to get paid for stuff I would buy anyways.
The only bad thing I have to say about this site/app is that I didn't discover it early enough. Yes, I had seen the television ads, but I figured there must be a catch, perhaps a paid membership, or some ungodly number of uses required to actually get any benefit. But no… its plain, easy, and a comply free way to earn money.
I have been a member for more than 3 years and I have already earned a few hundred bucks in cash back. The number of stores that partner with is very large – so no withdrawal needed from your store addictions. I use Amazon a lot and you can get up to 10% cash back!
How Does Rakuten Work?
All you have to do is sign up for Rakuten with an email address. Right off the bat, you'll be given a choice to pick a gift card that's worth $10. Your gift card will be sent to you once you complete a purchase of $25 or more. After you complete your shopping, your points will be automatically added to your account, typically within a day.
How To Sign Up for Rakuten
Its very easy – sign up & shop online as usual. The best way to use is to install the Rakuten Chrome browser button which allows you to bypass going through the Rakuten website. As you shop or google, it will note if the website is a participating Rakuten store and with one click your cash back shipping trip is activated.
Additionally, during check-out, the button will scan the internet for any applicable coupons.
Win: Win if I ever saw one.
Pros & Cons of Rakuten
Benefits
Super easy to use interface and very simple to navigate the site!
You get cash back for shopping you would've done anyway!
The best part is that it doesn't cost you anything except a little bit of time logging in and filtering where you can earn cash back
There is no question how much cash back you're going to get. The list of stores clearly displays the cashback percentage you get, and the amount is reinforced when you click on the link to a shopping portal.
Free $10.00 right when you sign up if you go through this link.
Downsides
Limited Categories: For Example, for Amazon you can only get cash back on certain categories.
Should You Use Rakuten?
Rakuten is free and will never cost you anything, so you can only benefit from using the site. You shop for something you would normally buy and then get money back in return.
If you don't shop much online, Rakuten might not be for you. Let's say you only spend $20 per month online. With an average cashback rate of 5%, you're only looking at $1 cash back. Is it worth your time? Probably not.
For me, I spend thousands on electronics and buy lots of web hosting accounts (hosting accounts give around $20 in cash back), so this makes Rakuten worth my time.
Rakuten Review Summary
If you sign up via my link and make a purchase of $25 (through Rakuten), I'll get a $5 commission from Rakuten. This decision costs you nothing yet provides me with a commission. Don't want to use my link? That's cool, but I appreciate it if you do.
I wrote this Rakuten review because not enough people understand how cashback works, and I want to change that. It's a great system that benefits everybody. You've got nothing to lose!


Our Pick

Rocket Money
Navigating your finances can be challenging. Why tackle it solo? A staggering 80% of individuals have discovered savings by utilizing Rocket Money to identify and eliminate unnecessary subscriptions. More than just subscription management, Rocket Money equips you with the tools to maximize savings, minimize spending, gain a comprehensive view of your finances, and reclaim mastery over your financial well-being.
Start Saving Now
Read Review