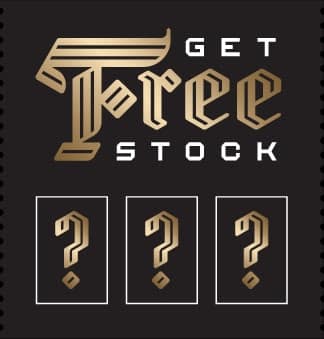 Robinhood: This is a free investing app for your phone. I really mean free all around – free to join and they don't charge any fees to buy or sell stock. You can get a share of stock like Apple, Ford, or Sprint for free when you join through this link.
About the challenge:
Hey guys, before I go into the challenge I wanted to share this promotion that Robinhood is having. It's simply amazing.
So I gained access to a stock trading service called Robinhood which allows users to make free stock trades with $0 transaction fees. I signed up through a friend and received a free stock. It's totally legit and just by signing up I got one share of Microsoft absolutely free. 
New account bonus
If you wanted to sign up to get a free stock here is what you have to do to get a free share.
Verify your email address

Install the Robinhood app on your phone

Claim your free share. You can do this in the Robinhood app.

Link your bank account to get the money out and fund your account

Share your referral link with friends to get more shares!
I signed up and received my free share in less than 10 minutes so you shouldn't have any problem with it. The share will take a couple of days to settle so you need to wait a bit before you sell. Also, you need to keep the cash in your account for 30 days.
Now let's get back to the challenge! To take advantage of this benefit of FREE TRADES from Robinhood, I'm starting this "$26k Challenge" thread with the following premise:
I'll swing trade different stocks, my goal is 30K by the end of summer

Each day, I'll report here with an update on my picks and overall portfolio progress
I'm hoping this will spark some interesting conversation about Robinhood, about my specific stock picks, general investment strategy, hot topics such as high-frequency trading, etc… I'm making this public because I think it will be fun for people to follow along. Please don't take my updates as advice or suggestions: I'm not a professional investor and this is just an experience for me.
The vast majority of investing professionals would tell you to invest for the long haul and that timing the market and riding the ups and downs is a coin toss at best unless you've got millions of dollars at your disposal. I agree and it's a strategy to which I largely subscribe. The $0 transaction fees offered by Robinhood do somewhat reduce the barriers that potential low volume day traders face, but I'm not suggesting it's a strategy you use yourself. Again, I'm doing this for fun.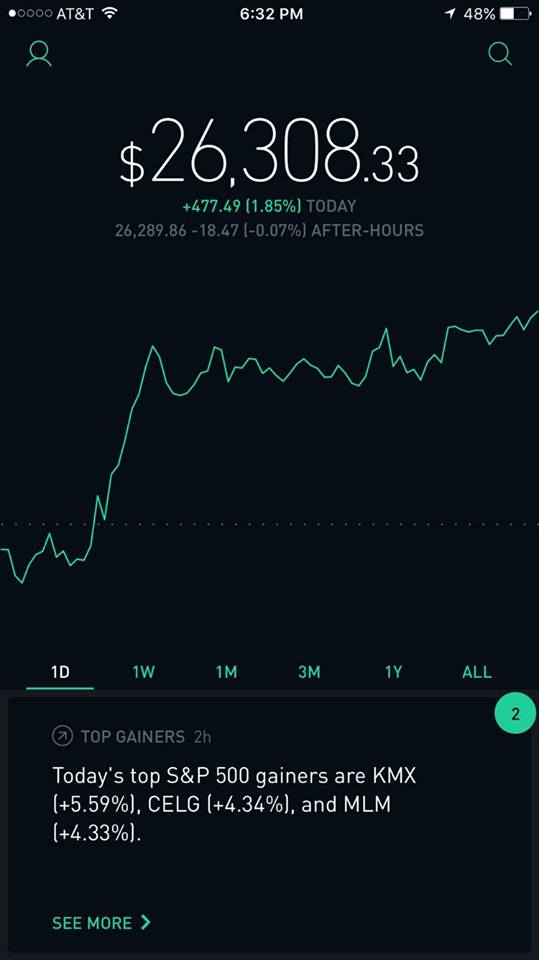 I may update this first post with more information depending on the interest/response… but here goes nothing.
Current portfolio:
NOK – 400 Shares

OREX – 1047 Shares

NUGT – 8 Shares

BCS – 441 Shares

KMI – 30 Shares

F – 1382 Shares

Cash- $1,334.80
Total Value: $26,308.33
Total Investment: $26,000.00
Return on Investment: 1.18%
Update 6/7/2016
Alright… honestly making trades daily is a little exhausting because of the market, at least today was very volatile. It is too easy to get stuck for no good reason. I took profits as the markets rallied this morning and sentiment rose. My account value was at $26,457.76 at one point today. As SPY peaked I went ahead sold all my positions and then did some trading around lunch hours which I could have done without as some trades did not go my way ($DWTI). I have a feeling that the economy may be at its tipping point. I did not want to hold any positions overnight and my account is all cash for now as tomorrow the Labor Department releases the June jobs report at 8:30 am E.T.
Sold:
NOK – 400 Shares

OREX – 1047 Shares

NUGT – 8 Shares

BCS – 441 Shares

KMI – 30 Shares

F – 1382 Shares
Traded today:
Current Portfolio:
Total Value: $26,457.76
Total Investment: $26,000.00
Return on Investment: 1.76%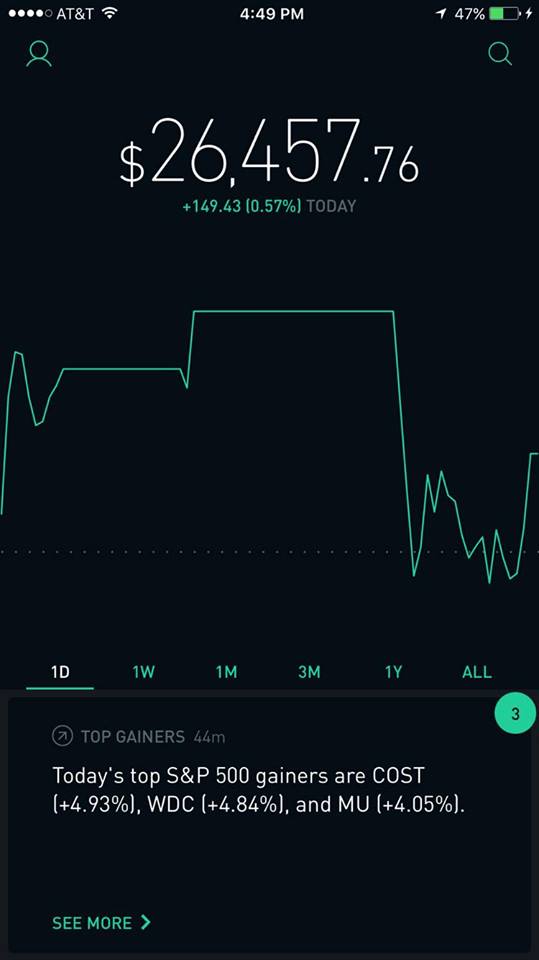 One last time – Join Robinhood & Receive a Free Random Share of Stock Worth up to $150 (+ Free Shares for Referrals). 
It took me less than 5 minutes to create a new account and get approved. I got a free share of SIRI (Sirius XM, $5) for signing up, and so far I've gotten shares of F (Ford, $11.36), SPLS (Staples, $9.72), OPK (OPKO Health, $7.47), S (Sprint, $8.50), CHK (Chesapeake Energy, $5.53), and RAD (Rite Aid, $3.80) for referring other users – over $60 worth of stocks so far. One of my friends got a share of AAPL (Apple) worth $147! Shares can be cashed out 30 days after receipt.
If you want to try your luck, feel free to sign up using my referral link. You'll need to provide your name, address, date of birth, and social security number. It looks like they do a soft pull of your Experian credit report to verify your identity. You don't have to put any money in the account – when it asks for your bank information, just click on the link on the right that says "what if my bank's not listed?" and it will let you skip that part.