As most Millennials are busy living their lives to the fullest, they may not remember that youth is not a guarantee for anything. When you are young, it seems impossible that you will ever die or that you would have any need for life insurance. Millennials may not see the practical advantages of getting life insurance while they are young.
At some point, life insurance will become a necessary expense. In order to protect your family from the unexpected hardships that can come after a death in the family, life insurance should be a priority at any age. For Millennials, there are some great advantages to getting life insurance coverage earlier rather than later.
To save some money and invest in protecting your future, you can talk to your local agent from Allstate Life Insurance or any insurance company about your options. We are going to take a quick look at a few of the things that Millennials should know about investing in life insurance.
Why You Should Get Life Insurance in Your 20s
Does this sound like you: "Should I get Life Insurance in my 20s?" if so, buckle up and learn about the very real reasons that you should definitely consider it.
1. Leave your family $1M
Who doesn't want to be a millionaire?
---
Want Free Money?
Aspiration: Want to get spotted a $150 for free? Simply sign up for Aspiration, and the free banking app will give you cash for free, you just relax while it gives you $150 just for opening a new debit card. There's no catch. This bank account is legit and only takes two minutes to sign up for an account.
---
Pro tip:
 Surveys are quick, easy, and can pay you cash from the comfort of your home. No wonder they are so popular.
Survey Junkie
,
Branded Surveys
,
Swagbucks
, and
InboxDollars
are just a few of the best survey sites to make money.
While we don't all have trust funds waiting for us, there is still a way to set up your loved ones with up to $1 million in life insurance — and you don't even need to be rich.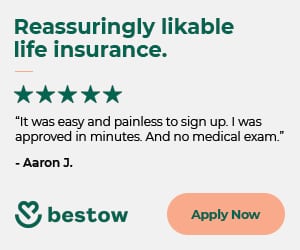 Wouldn't it be great if you could do this for as little as $8 a month without dealing with all the hassle of wasting your time or money?
You don't have to have money in your pockets to get a free quote from Bestow.
If you're interested, I recommend you sign up for more information from Bestow by clicking here.
2. Funerals are costly
The cost of dying is getting higher every year. If you don't have a pre-arranged funeral plan or a life insurance policy in place, your family could be left with staggering funeral costs. If you have young children, you will be able to help secure their financial future and even contribute to their educational costs.
Many Millennials are under the strain of a lot of debt from first mortgages and school loans. When an unexpected death or accident occurs, you want to protect your family from being on the hook for all of your debt, causing them financial hardship.
3. It's cheaper
There is no better time to get life insurance than when you are in the peak of health. Younger and healthier Millennials can enjoy the benefits of low premium costs, making it an easier expense to afford. You can lock in your lower rates for a 30-year term policy and get all the benefits of full coverage on the cheap.
4. You can build equity
Millennials are finding it difficult to build up any kind of savings. With large amounts of debt to carry from new mortgages and old school debts, putting money aside for the future just isn't possible. Life insurance is a necessary expense that can pay back out down the line.
Whole insurance policies carry a bit higher premium costs but can help you build up equity that you can borrow against later. A percentage of the premiums to be filtered into an investment account that can be used to build a portfolio.
Read more: Infinite Banking Concept – How to Borrow Cash from Own Your Life Insurance Policy
5. Supplement workplace coverage
Company insurance policies can provide you with enough coverage to take care of your basic funeral expenses but are often not enough protection for the future. On average, company policies will only cover your costs for 1-2 years.
It is recommended by investment and financial experts to have at least 10-12 years of coverage to be safe. A lower-cost Term policy is often enough of an investment to provide affordable supplement coverage to protect your family and future.
Essential tips for buying life insurance
When you're on the market for buying life insurance, be sure to remember the following.
If necessary, take advantage of the "free look" period
Compare apples to apples
Understand that life insurance is designed for protection
Enhance your coverage with policy riders if necessary
Buy from a reputable life insurance company
There's a lot of misconception about a life insurance policy, primarily due to the way life insurance coverage products have been offered through the years in the USA.
Things are evolving in the life insurance space, with affordable term quotes with no physical exam, with access to quick life insurance quotes just a click away, it's important to avoid some common life insurance mistakes. A popular mistake for young people and Millennials is buying whole life insurance over term life.
A term life insurance policy is the best alternative to whole life insurance. This type of life insurance policy ends after a specified amount of time. And because it is cheaper as compared to whole life, you can buy a lot more coverage for the same amount of money.
To chalk it up, things like life insurance and funeral costs are not often a top consideration for the younger generation. Millennials should learn about the benefits of having the right life insurance policy to help protect their families and secure their futures.
Go
Description

Want Financial Wellness?
Acorns
Acorns is your guide to financial wellness. They'll help you invest, save and spend smarter starting at just $1 per month. There's no catch. This app is legit and only takes two minutes to sign up for an account.

LEARN MORE


Today's Best Offers
App
At a glance
download
Chime
★★★★★


Chime will spot you up to $200 if you accidentally overdraft. And even better: they won't charge you a dime.

GET SPOTTED $200

Axos
★★★★★


This free savings account delivers on its promise to save you money effortlessly. You can use it to get up to 6x the national average APY. It now pays to stash your cash in a savings account.

GET PAID TO SAVE