You might be physically fit while you're young and in college, but staying in good financial shape is another matter.
Being financially literate is hard because there are a lot of other things to focus on: the effort to get good grades, your social life, your love life, and your health. Most students set aside financial considerations in hopes that they'll make good money with a decent job after college.
Statistically speaking, counting on your postgraduate job does make some sense. In terms of college degree earnings, college grads make $549 per week more than high school grads on average. And, nearly 15 percent more college grads are employed. Yet, student loan debt provides a stark contrast to these numbers. The average class of 2016 grad owes $37,172, and the grand total of nationwide debt is $1.31 trillion (yeah that's 1.31 with 10 zeros after it).
No one would blame you for wanting to keep from being a part of that stat. To avoid looming student loan debt, consider the following:
1. Build Good Habits Now
Don't wait until after you graduate — train yourself to manage your money now. This is excruciating for students who aren't ready to live in the "real world" and are using college as a way to avoid adulthood. But if you're the type of student who has your future in mind, look at college as a window to the future.
---
Want Free Money?
Aspiration: Want to get spotted a $150 for free? Simply sign up for Aspiration, and the free banking app will give you cash for free, you just relax while it gives you $150 just for opening a new debit card. There's no catch. This bank account is legit and only takes two minutes to sign up for an account.
---
Pro tip:
 Surveys are quick, easy, and can pay you cash from the comfort of your home. No wonder they are so popular.
Survey Junkie
,
Branded Surveys
,
Swagbucks
, and
InboxDollars
are just a few of the best survey sites to make money.
Here's how it works:
Heed these habits of financially successful people:
Don't be a cynic: Cynics earn less money than people with positive attitudes; start small and have positive perspective toward saving money.
Set SMART goals with your money: SMART stands for Specific, Measurable, Achievable, Relevant, and Time-bound.
Hack your budget: Look at what you're spending money on each month and think of ways to save.
Believe in your agency: You are in control of every decision you make with your money, and each decision carries consequences.
Invest for the long-term: When you're able to set aside money for investments, don't get squeamish and withdraw when stocks fall; stay the course and let your money ride.
Avoiding impulsiveness is a big factor in adhering to all of the above tips. Analyze your next money move before you make it. Don't just tell yourself, "I'm going to spend less on stuff I don't need." Sit down, think about what you spend money on, write it down, and find things to cut out.
2. Take Online Courses
Why online courses? To avoid student loan debt, you should work while in college, and online classes allow you more flexibility so you can tailor your schedule accordingly.
Here's how it works:
You have some great options in terms of paying for college:
Noticing a common trend with all of the above? They require extra legwork, but don't fret; if you work hard to pay your way through college with all the available options, your time after school will be much more enjoyable.
3. Student Loan Debt Is a Steel Trap
Here's how it works:
You're not required to begin paying on loans till after you graduate, and even then there's a grace period. But once the payment terms kick in, they're a very serious loan, and your payment history will reflect on you for a long time. Never default on student loans — it hurts your FICO credit score. Within the first year, skipping a payment on a fixed-rate 15-year loan will hurt you for the next 22 years. If you default on the loan — which means you don't make payments for more than 270 days — it will seriously damage your credit score for seven years. You won't be able to buy a house, it'll be tough to buy a good car — just don't do it.
You can also look into refinancing your student loans:
Our Top 6 Picks for Student Loan Refinancing
DID YOU KNOW CHECKING YOUR RATE DOESN'T AFFECT YOUR CREDIT SCORE?
| Lender | Variable APR | Loan Types | Eligible Loans: | Terms | |
| --- | --- | --- | --- | --- | --- |
| | 1.99% to 6.28% | Variable and Fixed | Private and Federal | 5, 7, 10, 15, 20 | |
| | 1.99% to 7.10% | Variable and Fixed | Private and Federal | 5, 7, 8, 10, 12, 15, 20 | |
| | 1.99% to 5.64% | Variable and Fixed | Private and Federal | 5 – 20 | |
| | 1.99% to 5.25% | Variable and Fixed | Private and Federal | 5, 7, 10, 15, 20 | |
You can learn more about refinancing student loans here.
4. Build Good Credit
If you're working, you have the opportunity to start building your credit score, meaning when you graduate you'll be in good financial standing and ready to succeed on your own. If you don't know your credit score, companies like Credit Sesame can provide you your credit score for free in a few minutes.
Here's how it works:
Even if you have to take out loans, student debt and credit score are not necessarily enemies. Save up money while you're working and then make regular payments on your loan. Don't make partial payments, pay the entire amount due each time your bill comes around. Credit agencies will take note and your score will climb steadily.
Even during college you can begin building good credit. Get a student credit card and get smart with it. Learn about how credit cards work. Only make credit purchases you can afford to pay off immediately. In other words, make strategic purchases on the card. Check how much you have in the bank, then buy a few things (the fun part), then pay what you owe at the end of the month.
The interest rate on your college card will skyrocket after the initial terms expire, I guarantee it. That's one reason why you must pay off card debts in full when payment is due. Once you have the chance to get a new card with better terms (such as a cash rewards card), take it. Then, make sure your original card is free of all debts, dispute any incorrect records, and leave the card open with zero debts. This shows creditors you're responsible.
You Can't Lose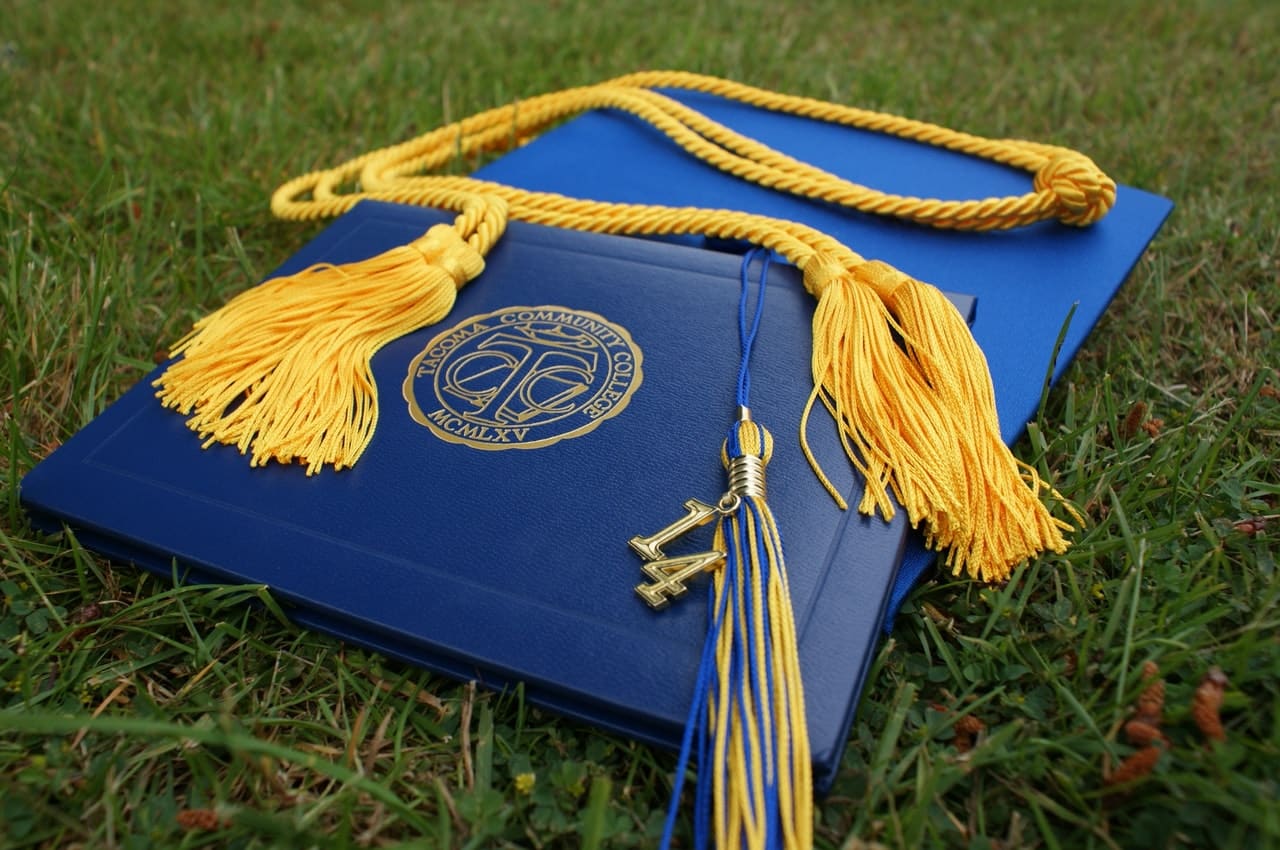 If you maintain a job during college, look into grants and scholarships, and pay your way, you'll graduate debt-free and in good financial standing. Maintain that college credit card in good standing along the way. Or, take out loans, get a job, save money, and pay your loans off reliably after you graduate.
You can't lose with these strategies because you'll be free of the steel trap that is student loan debt, and your credit score will be stacked to make important purchases. What's more, you'll have that degree, which pretty much guarantees you'll make more money than high school grads. It also guarantees you learned something, and that's the most valuable thing of it all.
Go
Description

Want Financial Wellness?
Acorns
Acorns is your guide to financial wellness. They'll help you invest, save and spend smarter starting at just $1 per month. There's no catch. This app is legit and only takes two minutes to sign up for an account.

LEARN MORE


Today's Best Offers
App
At a glance
download
Chime
★★★★★


Chime will spot you up to $200 if you accidentally overdraft. And even better: they won't charge you a dime.

GET SPOTTED $200

Axos
★★★★★


This free savings account delivers on its promise to save you money effortlessly. You can use it to get up to 6x the national average APY. It now pays to stash your cash in a savings account.

GET PAID TO SAVE